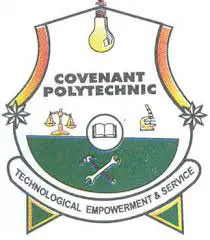 Covenant Polytechnic Admission form 2021/2022 is Out. Covenant polytechnic which was founded in 2005 and accredited by the federal government through National Board For Technical Education (NBTE), has officially rolled out the sale of their admission form for the 2021/2022 academic year. Interested candidates are to check below for the available programmes, admission requirements for the National Diploma (ND), and the Higher National Diploma Programme (HND) and how to apply.
This is to inform the general public that the 2021/2022 Admission into Covenant Polytechnic, Aba has started. Interested and qualified candidates are invited to apply.
HND BAM
BUSINESS ADMINISTRATION
PUBLIC ADMINISTRATION
BANKING AND FINANCE
ACCOUNTANCY
HND SAS
COMPUTER SCIENCE
ELECTRICAL ELECTRONICS ENGINEERING
COMPUTER ENGINEERING TECHNOLOGY
SLT (CHEMISTRY)
SLT (MICROBIOLOGY)
ND BAM
BUSINESS STUDIES
FINANCIAL STUDIES
OLD PUBLIC ADMINISTRATION
BUSINESS ADMINISTRATION
ACCOUNTANCY
BANKING AND FINANCE
PUBLIC ADMINISTRAITON
ND SAS
COMPUTER SCIENCE
ELECTRICAL/ELECTRONICS ENGINEERING
COMPUTER ENGINEERING TECHNOLOGY
STATISTICS
SCIENCE LABORATORY TECHNOLOGY
ADMISSION REQUIREMENT
Provisional Admission is given to Candidates with relevant entry qualifications into the Polytechnic. Admissions are offered in two (2) categories:-
Full Time Programme: is offered to those students who possess the required qualification and will take their lectures at the Main Campus
Part-Time Programme – Part-Time or Online Programme is offered to those candidates who possess the required entry qualification for admission into National Diploma and Higher National Diploma
Candidates must carefully complete the form by attending to every information on it, especially E-mail, Phone No:, Mode of Study and Choice of Programme
For Full-Time students completed forms must be forwarded to the Registrar – Covenant Polytechnic,main campus Owerrinta, Abia State and can as well be completed and submitted On-line via Internet.
For Part – Time, the form can be completed and submitted On-line through Internet. The form will be processed within two (2) days and the status of your admission will be sent to your e-mail
NATIONAL DIPLOMA (ND)
Candidates for Full Time or Part- Time must possess Five (5) credit passes including English and Mathematics for National Diploma Programme.
REQUIREMENT (ND)
3 Copies of O'Level Result
3 Copies of Jamb Result
3 Copies of State /Local Government of Origin
3 Copies of Certificate of Birth or Declaration of age
3 Copies of Attestation / Recommendation Letter
3 Copies of Medical Test Result (Medical Test to be conducted in the school Clinic)
Eight (8) Recent Coloured Passport Photograph
HIGHER NATIONAL DIPLOMA (HND)
Those of Higher National Diploma must possess SSCE Result with National Diploma (ND) result from recognized Higher Institution.
REQUIREMENT (HND)
3 Copies of O'Level Result
3 Copies of National Diploma (ND) Result
3 Copies of State /Local Government of Origin
3 Copies of Certificate of Birth or Declaration of age
3 Copies of Attestation / Recommendation Letter
3 Copies of Medical Test Result (Medical Test to be conducted in the school Clinic)
Eight (8) Recent Coloured Passport Photograph