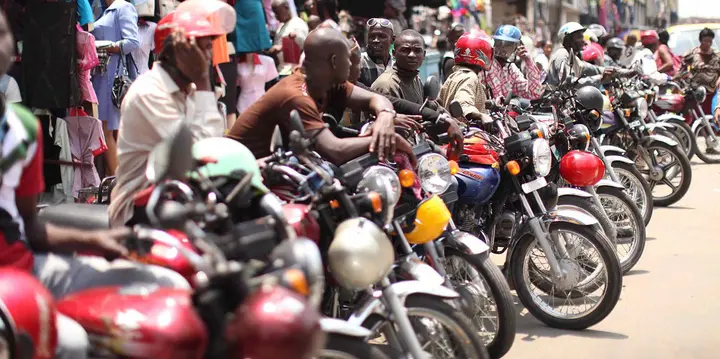 The ban  on the operations of motorcycles in Abuja city centrer has been successful while their continuing operation in the satellite towns without proper regulations is becoming a threat to many residents.
The commuters on the Nyanya-Mararaba axis face a lot of challenges during the peak periods, particularly at the dawn and during closing hours from offices. Since the majority of residents in Nyanya-Mararaba are civil servants, the operation of motorcyclists at this peak period causes a lot of inconvenience to the commuters. They engage in traffic law violation such as taking to one way, speeding and crossing the highway without any regard to other road users.
They defy the coordinated and tireless efforts of relevant security agents who are overwhelmed with the situation. It is therefore imperative to bring this to an end before they cause a major disaster.
Their operation can also be inimical to  our security, especially at this critical time when insecurity in the North-Central states and the country at large is pervasive and residents are being  confronted with the ugly menace. It's also evident that the Okada operators are not registered, which has made it difficult to identify and fish out the offenders and accomplices  whenever crimes are committed. It's a glaring fact that the union in charge of regulating the operations of these riders is mainly interested in collecting dues from its members leaving out the welfare, monitoring, proper regulation, and sanctions of its members when necessary. The commuters cannot also be exonerated as they patronise the operators even when they are on the wrong path.
It's based on this dangerous situation that many residents of these areas have been calling on the government to find a lasting solution to curb this menace of Okada operators in the satellite towns.
It would be apt for the government to introduce such measures as establishing a mobile court to prosecute and punish those who violate traffic laws.
More efforts must be made to ensure each operator is duly registered with relevant authority so that his record would be available at any time.
Nigerians must also guard against abetting those operators who run foul of the law by patronising them. They should ensure that they report those who violate the law to relevant authorities.
We should also consider imposing age restriction on operators so that underage persons are weeded out from operating. Enlightenment exercises should also be frequently conducted to sensitise them on traffic regulations and other dangers associated with their operations.
Abdulmalik Saidu wrote from Abuja