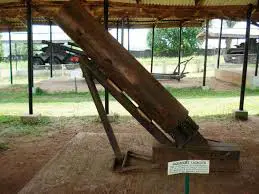 During the Nigerian Civil War of 1967, the Igbos created a deadly mass destruction missile called "Ogbunigwe". The Ogbunigwe was allegedly the first technology to be wholly designed and mass produced in Africa. About 500 units were produced everyday in Igboland.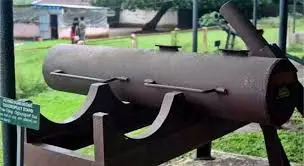 The Ogbunigwe was based on the physics of "Munroe or Neumann effect". The shape was like that of a cylinder or cone. The Ogbunigwe had various forms, ranging from land mines to ground-to-air missiles, and ground-to-ground projectile against troop concentration. The Ogbunigwe was also called "Ojukwu's Bucket", which was named after Chukwuemeka Odumegwu Ojukwu, the Biafran Head of State.
The Ogbunigwe mines and warheads were so lethal that it could wipe out a big company of enemy troops, as it had a killing range between 180 meters and 800 meters. It was the most effective weapon the Igbos had during the civil war, and the Nigerian army had a tough time defending against it.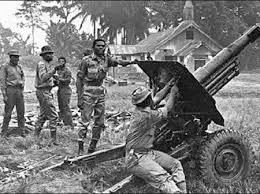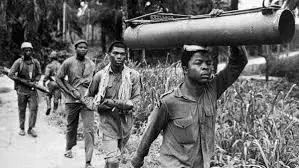 The Ogbunigwe really helped the army in many battles they fought during the war. Due to the fear of the Ogbunigwe, each advancing battalion was preceded by a herd of cattle, which made a lot of cattle lose their lives. The Ogbunigwe was indeed a weapon of mass destruction because in its various forms, it caused a lot of casualties for the Nigerian troops.
The economic blockade of Igboland during the war, made the Igbos to look inward and find a means of survival. Alot of inventions and developments were made by the Igbos during this period. They extracted and refined their own petrol at the time of the war. They also had improvised armoured tanks and piloted their planes.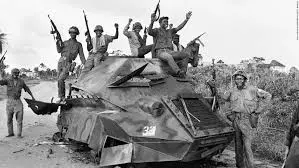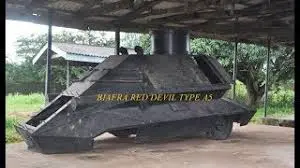 A team of scientists were able to develop telecommunication gadgets, bombs and rockets, which helped them during the civil war. They were led by a renowned Professor Gordian Ezekwe.