Former Governor Fayose got many talking on social media as he left the comfort of his vehicle and took Okada in Lagos
Sharing his photos on Facebook, the former governor of Ekiti state explained that he had to take Okada to avoid missing his flight
Afolabi Oluwatobi, a Facebook user, said it is because of such situations that Okada should not be banned in the nation's commercial capital
Ikeja, Lagos – Former governor of Ekiti state, Ayo Fayose, had to resolve to take a commercial motorcycle, popularly known as Okada, to beat the vehicular traffic in Lagos to avoid missing his flight.
The former governor and chieftain of the Peoples Democratic Party (PDP) shared the pictures of himself and his orderly on Facebook, saying: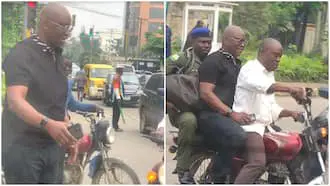 "Lagos traffic is no respecter of anyone. I had to take Okada in Ikeja to avoid missing my flight."
Nigerians react
The photos posted on Facebook on Tuesday night, October 19, have attracted hundreds of reactions.
Afolabi Oluwatobi said:
"That is why Okada shouldn't be totally banned in Lagos. It has saved many people their jobs, interview appointments and all. They should be regulated instead.
"To me, there is really no reasonable explanation to justify the ban of smart ride like Opay rides. Through apps, you can book a ride and no matter how remote your location, the bike will come and pick you up to your destination with full kit and head protector. There's no smarter way to move around in Lagos than this and the government should look into it."
Abdulkareem Adisa Sulyman said:
"I pity the poor Police man. You risk your life just for a show of shame.
"How I wish I'm one of LASTMA personnel, we'll arrest you, the Okada man and report the Police man to the appropriate authority."
Yusuf Adebanjo said:
"Correct man, pragmatism at its best. The Lagos traffic no send anybody ooo. I was once a victim myself, with all my official corporate wear and expensive perfume I had to humble myself, bury my pride and hop on a bike to the airport when it became evident I was going to miss my flight with the vehicle remaining stuck in traffic. For Lagos, you need to borrow yourself sense whenever you stuck in traffic."
Humphery Smith said:
"Much Love for this. Anyway, it's for your own good. How did you feel taking okada Sir? That's little to compare what the poor masses are going through in this country Sir… Allow God to use Sir and Better the life of Nigerians."