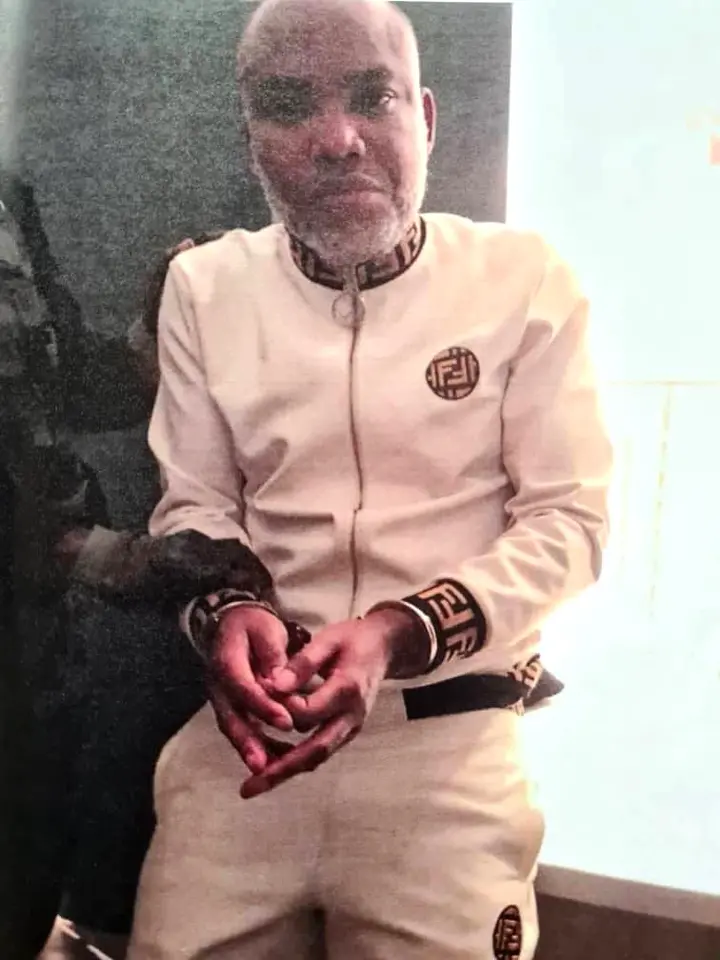 IPOB wondered if bandits with the aid of alleged compromised Nigerian military can successfully attack the NDA and kill Igbo military officers, why will one think Fulani bandits can't attack DSS headquarters with the aim of killing Nnamdi Kanu. A statement by IPOB's Media and Publicity Secretary, Emma Powerful, entitled, "Attack on NDA: Fulani planning to hand Nigeria over to Jihadists like Afghanistan was handed over to Taliban—IPOB, said the shameful story of NDA Kaduna attack was just a confirmation of the age-old plan to accomplish the wicked agenda of Islamizing Nigeria.
IPOB, however, warned that if anything untoward happens to its leader, Nnamdi Kanu, Nigeria will cease to be before the plan of Islamizing it will be achieved, telling all the people that have been talking against its leader and IPOB to cover their faces in shame over the level their country Nigeria is descending and degenerating to.
IPOB statement read in part, "We the global family of the Indigenous People of Biafra, IPOB, ably led by our great leader Mazi Nnamdi Kanu, wish to put the world on notice of the wicked plot by Nigeria Government and its security agencies to turn Nigeria into another Afghanistan."
"Tuesday's coordinated attack on the heavily guarded Nigeria Defense Academy, NDA Kaduna, by rag-tag Fulani bandits with ease and without resistance was just a confirmation of the age-old plan to accomplish this wicked agenda of Islamizing Nigeria.
"This attack at the NDA Kaduna is also an indication that they may be planning to attack the Headquarters of the Department of State Services, DSS, where our leader Mazi Nnamdi Kanu is currently detained.
'If Fulani bandits with the aide of compromised Fulani controlled Military can successfully attack the NDA Kaduna as heavily guarded as it is, killing Igbo military officer, why will one think Fulani bandits can't attack DSS headquarters to kill Nnamdi Kanu?
"The Fulani-controlled federal government knows that our leader is their greatest headache. Our leader Mazi Nnamdi Kanu, predicted what is happening now and how the cabal running the country wants to actualise the Fulanization and Islamization of Nigeria agenda.
"Many people did not believe him, but the unfolding events leave no one in doubt of the reality of this wicked agenda. Anything they can do to eliminate our leader will not be considered too expensive, but our God will frustrate their evil plot. Those who were winning their dirty mouth against our leader and IPOB should now bury their faces in shame over the level their country Nigeria is descending and degenerating.
"We, therefore, want to place Nigeria on notice that nothing should happen to our leader while in her custody. Should anything untoward happen to our leader Mazi Nnamdi Kanu while in custody, Nigeria will regret the day it was amalgamated, the country will cease to exist before their Islamization agenda will be achieved.
"We equally want to place the world on notice that Nigeria should be held responsible if anything befalls our leader. Biafrans are also placed on red alert about disturbing security situation in Nigeria and the possibility of an attack against our territories."
Nigerians Killed Like Rams Under Buhari Regime — Imo Governor, Uzodinma

Amid the worsening security challenges across the country, the Governor of Imo State, Hope Uzodinma, has stated that Nigerians are being killed like rams under the administration of President Muhammadu Buhari.
He stated this on Wednesday after holding a closed-door meeting with the president, the News Agency of Nigeria reports. He was quoted as saying, "It's condemnable. It's unfortunate that people kill human beings these days as if they are killing rams."
"I will call on all of us as leaders, as Nigerians, to protect the sanctity of our nation and protect the interest of our country."
He urged leaders to "respect and obey the rule of law and do things that are allowed by law and condemn illegal and criminal activities."
The Imo governor also urged Nigerians to condemn crimes whenever they occur, saying justice must be served on whoever is found wanting.
He, however, advised that people must not take the laws into their hands no matter their grievance.
"The business of government is the protection of lives and property, and we must act as a government and live up to the responsibilities of government. So, we try to maintain law and order and condemn illegal and criminal activities as well as make those who are apprehended to face the law.
"So many people are taking laws into their hands, and some aggrieved people have resorted to self-help.
"Illegality upon illegality is still illegality. But all we try to do is to appeal to our people because collectively, I am almost certain that if all of us agree today that unknown gunmen and bandits must stop, they will stop," he assured Nigerians.
"Somehow, some people tacitly and otherwise are still allowing and encouraging these criminals to harass and intimidate innocent citizens."
Source: Sahara Reporters
Michael Nader is dead at age 76

Dynasty star Michael Nader has died at the age of 76 just ten days after he was diagnosed with terminal cancer, his wife Jodi Lister shared on Wednesday. The actor was best known for playing Dex Dexter, the handsome husband of Joan Collins' cunning villain, Alexis Carrington, on the hit eighties TV show Dynasty, and he also found fame playing Susan Lucci's supportive husband Dimitri Marick on the soap opera All My Children.
News of Nader's passing was shared by his grieving wife in a Facebook post, with Lister revealing that her husband died at their home in Northern California on Monday while opening up about the 'agony' of seeing him succumb to his illness.
'It grieves me to share the sad news that my husband, Michael Nader, passed away at home on August 23rd,' she wrote. 'He was diagnosed with untreatable cancer on Friday the 13th and died 10 days later with me and his best fur friend Storm by his side.
'His death and diagnosis was sudden and unexpected and I have never experienced such agony as watching my soul mate die before my eyes.