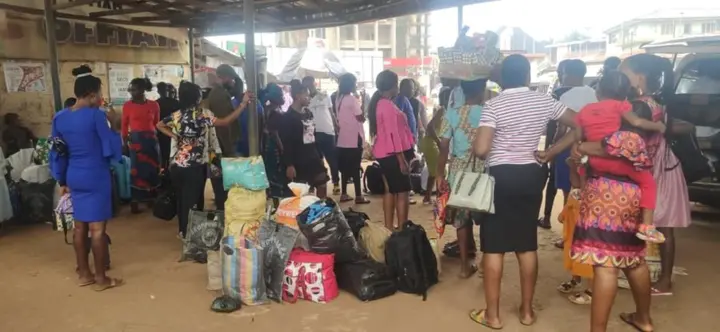 Barely forty-eight hours to the November 6 governorship election in Anambra State, residents concerned about their security have started leaving the state.
The Independent National Electoral Commission ( INEC)  had fixed November 6, 2021 for the Anambra gubernatorial election.
Concerned about security of lives during the election was raised by residents after the Indigenous People of Biafra (IPOB) said it would declare sit-at-home in the South East on November 5 if its leader, Nnamdi Kanu, was not released before the date.
Kanu is still in the custody of the Department of State Services and there is no indication the Federal Government is willing to release him.
Justice Binta Nyako of the Abuja Division of the Federal High Court had ordered his remand in DSS custody following his arraignment in June, after he was brought back into the country.
The Federal Government, INEC and the Anambra State government have all said the election would hold as scheduled and assured of security, including a police deployment of about 35,000 personnel.
But these may not be enough to persuade many, especially non-indigenes in the state, to stay and vote.
THE WHISTLER gathered that many of the residents have started traveling out of the state before election day in order not to be caught in any possible violent backlash.
A twitter user, @Munonyeyi , shared a video and photos of people queuing at motor parks across the state trying to board a vehicle out of the state.
He wrote; "There is a massive exodus of people out of Anambra and these are possible voters. I am at one of Ekwulobia urban mass transit parks in Ekwulobia and there are no cars for Nsukka, Enugu or Abakaliki which are their massive routes. Romchi park which is close by is also empty. "This mass exodus is expected to last till just before the elections. The large numbers of travellers are putting strain on other cars covering local routes. There are even no cars going from Ekwulobia to Awka from that park at the moment.
"Voter apathy driven by insecurity and uncertainty is taking shape, #AnambraDecides2021″.
The development in Anambra is also affecting transport business in neighbouring states. For instance, a Peace Mass Transit driver who spoke off-the-record to our correspondent on Thursday, said " Unlike before, it's only one bus that has left for Onitsha from Umuahia since morning because if it's other days before now at least two buses would have left the terminal for Onitsha. But nobody is willing to go because of tomorrow sit- at- home.
"One of our drivers in Onitsha told me this morning that our park in Onitsha is scanty as many buses have left the town leaving many passengers stranded because there are no vehicles".
Another driver with J C Mass Transit who just came in from Onitsha ON Thursday morning also confirmed that there were many passengers trying to leave Anambra.
He said," I'm just coming back from Onitsha ,of course, they're so many passengers everywhere in the park. In fact today seems like Christmas period when passengers are just everywhere but no vehicles.
"There's a checkpoint in every kilometer. The roads are  too busy today people are just running out of the town ahead of tomorrow's sit at home".