The Federal High Court sitting in Abuja, has adjourned the trial of Mazi Nnamdi Kanu, the leader of the Indigenous People of Biafra, to January, 2022. The trial scheduled to hold on Wednesday, November 10, was postponed till January 19 and 20, after Kanu's lawyer left the court, in anger.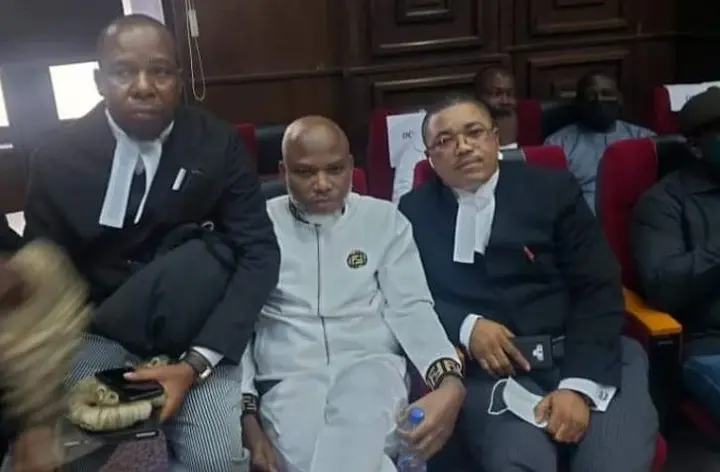 Kanu's legal team, led by Barrister Ifeanyi Ejiofor, left the court room in protest, after the security operatives refused to permit a foreign lawyer, Bruce Fein, into the courtroom. 
Barrister Ejiofor and his team, who had previously entered the room, left when they learnt that Bruce Fein, who came from United States of America, would not be allowed into the courtroom.
Nnamdi Kanu told Justice Nyako, that Fein who was handling a case for him in America, was around to witness his trial. Kanu said that Fein had been in the DSS custody before, but he was not allowed to meet him.
When Kanu was asked, if he would want the case to continue in the absence of his lawyer, Kanu said no, from the dock.
Justice Binta Nyako, who is handling the trial, adjourned the case till January 2022, after Barrister Ejiofor and legal team, failed to return to the courtroom.
Mazi Nnamdi Kanu, has been return back to the custody of the Department of State Services (DSS).