For many women, ensuring they look their best on their wedding day is often considered a top priority, and this explains why people spend so much on their dress, hair and makeup.
However, what was meant to be a perfect look for this bride didn't exactly go as planned.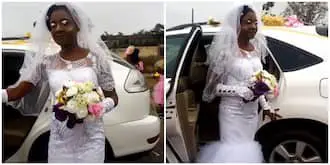 Fashion blogger, @asoebi_styles, shared a video of a bride stepping out of a car, dressed in her wedding gown.
However, while the wedding dress was seemingly okay, there was nothing ordinary or bridal about her makeup.
While the eyeshadow calling was in a blinding white shade, the blush and bronzer were applied in excess, making the bride look less than beautiful on her big day.
Watch the video below:https://www.instagram.com/p/CXG3yryDcGw/embed/captioned/?cr=1&v=7&wp=656&rd=https%3A%2F%2Fstories.6chcdn.feednews.com&rp=%2Fnews%2Fdetail%2F487dde7e682929d01a8b5d4caf775dcd%3Fac%3D3g%26app_version%3D9.2.2254.59825%26client%3Dnews%26country%3Dng%26entry_id%3D51c90518211206en_ng%26features%3D281198437859085%26lang%3Den%26language%3Den%26low_perf%3Dfalse%26mode%3Dbody#%7B%22ci%22%3A0%2C%22os%22%3A1237.7999999989697%7D
Reactions
The video which has since gone viral sparked reactions from social media users. While some pondered on what the makeup artist had against the bride, others speculated that it may have been a free makeup job.
Check out comments below:
israel_preshy:
"Aah some makeup artist n tailors shall not see the gates of heaven."
amb_sunshine:
"Abeg na joke be this?.. God abeg oh."
jaboangel:
"Wickedness!!!!! And who are her friends that allowed this? Kai!!!! My squad would have beaten "makeup and tailor combined slapped."
thefoodxpres:
"Everything has to be white "
sr_yozah:
"Okay, where is she going to? She better go back "
opeyemikaffy20:
"I have to zoom it again to see the makeup.. her makeup artist didn't do well at all. Maybe is free makeup sha ‍♂️‍♂️‍♂️‍♂️"
saint.viktoria:
"I want to ask the make up artist a Question…… Is the groom her ex."
igbalodeankara:
"The makeup artist need to be flogg**"
helynbeautz_hair_republique:
"Wahala no dey finish for naija sha"
turbans_world:
"Na tipets them use do her eye shadow."
abebicourierandlogistics:
"Bride : I'm Wearing White. Makeup Artist : Say no more."
kemcutzfashion:
"Dis is when ur enemy is ur makeup artist "
mz_lizzy7:
"That makeup artist won't make heaven "
Bride rocks unique hairdo on her big day
Nigerians on social media have reacted with mixed feelings to a video of a bride on the day of what appears to be her traditional wedding ceremony.
Every bride-to-be's dream is to be the star of her big day and this often influences their choice of outfit, makeup and hairstyle.
The need to stand out on their wedding day often sees brides rocking looks that leave people talking.
This appears to be one of such brides who sported a daring hairdo for her wedding day.