The body of Olalekan Odunare, the 21-year old man who reportedly jumped into Lagoon on Tuesday in Epe, Lagos has been found. The development came about 74 hours after an intense search for his body by families and officials of Lagos State government.
According to the video that went viral on social media, the young man who was a National Diploma holder and father of a year old baby had before he took the decision, told his father to pray for him and his girlfriend should take care of his little child.
As at the time he made the statement, none of them knew what he actually meant. It was until the video of when he was about jumping into the Lagoon went viral that jolted their memories back to reality of his statement.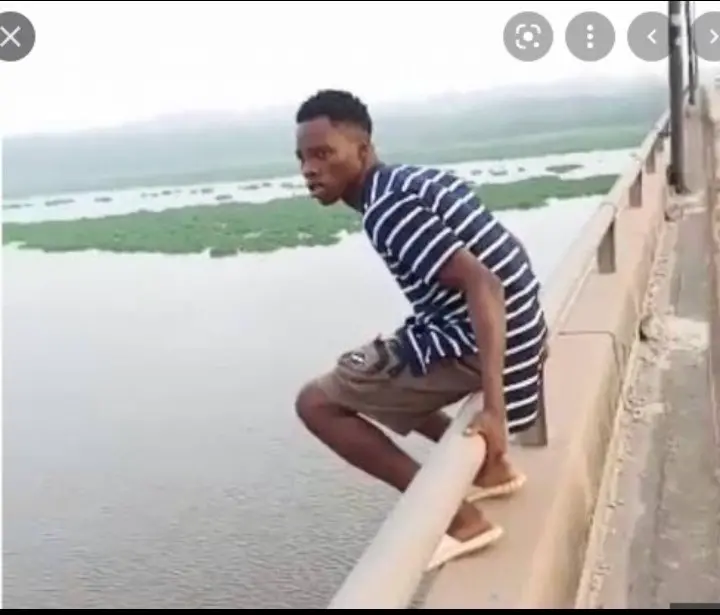 Grapevine information about Olalekan revealed that he had been battling with depression before deciding to end his life. His situation must have got to climax on Tuesday when he chose to take the drastic step.
It was revealed that the person who recorded the video attempted to get close to him and prevent him from committing the act but before he could walk up to where he was, he had jumped into the river.
However, if the fellow or any other person had successfully prevented him from committing suicide that day, Olalekan would have still been arrested, prosecuted and jailed in line with the constitution of Nigeria.
Suicide attempt is a criminal offence in Nigeria. According to Section 327 in the Criminal Code Act:
"Any person who attempts to kill himself is guilty of a misdemeanor and is liable to imprisonment for one year."

Recession, Depression, or whatever the reason might be is not enough to commit suicide. Everybody goes through tough and difficult times in Nigeria. Killing oneself is therefore not a way out of problem.
Olalekan was lucky enough to have got away with the suicide and ended his life. If he was rescued from jumping into the Lagoon or brought out of the river alive, he would have been made to face the dire penalty of his offence according to provision of the law.