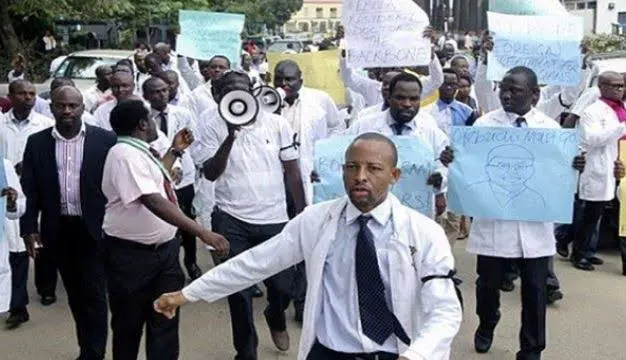 Jack Obinyan, a former aide to Edo State Governor, Godwin Obaseki, has criticized Nigerian doctors who are leaving the country for other countries.
He took to his official Facebook page to say that Nigeria spent so much to train these doctors, only for them to run to other countries without serving Nigeria.
He wrote: "Nigeria will spend a fortune to train you to become a doctor, something you will use a lifetime loan to acquire in Countries like the U.S, then the next thing, you japa because there are certain conditions that aren't met.
"Meanwhile a whole lot (if not all) of you are earning via private consultancy and on the parallel earning from Government, something that is virtually impossible in the abroad.
"Buhari is too kind, if na me, you will serve Nigeria for at least 10years before you can leave. A Country inundated with 'eating cakes and having it…' Mtcheeew."
His statement is coming on the heels of the 27-day-old industrial action by Nigeria Association of Resident Doctors (NARD), which has continued to take its toll on the country's healthcare facilities.
The doctors are, amongst others, demanding payment of COVID-19 inducement allowances and medical and life insurance for frontline doctors.
Also, irked by his insensitive the government has been to their plight, doctors have resorted to relocating in droves to countries where their services are most sought after.
And so expectedly, Obinyan's post rubbed Nigerians the wrong way.
This isn't the first time Obinyan would make statements that will rile Nigerians.
At one time, he had attempted to preach on the benefits of hard work when he said that a female minor whom he met recently was happily hawking bottled water and at the time of their conversation had sold N4,000 which gives her a profit of N800.
He went further to state that after a whole day's work, she retires home with approximately N1,500, which after research amounts to less than five dollars. In his post, Jack, seemed to be praising the work of the minor and stating that hard work pays.
His post angered many Nigerians who attacked him verbally and stated that the young girl should be in school instead of being on the streets. Many also accused Jack of glorifying poverty and suffering instead of being honest about the condition of the country.
Some argued that if Nigeria were a well-governed country, such will not be happening to the do called 'leader of tomorrow.'