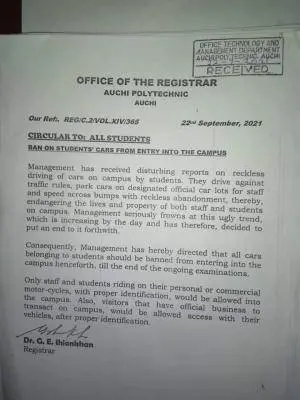 Management has received disturbing reports on the reckless driving of cars on campus by students. They drive against traffic rules, park cars on designated official car lots for staff, and speed across bumps with reckless abandonment, thereby, endangering the lives and property of both staff and students on campus. Management seriously frowns at this ugly trend, which is increasing by the day and has therefore, decided to put an end to it forthwith.
Consequently, Management has hereby directed that all cars belonging to students should be banned from entering into the campus henceforth, till the end of the ongoing examinations.
Only staff and students riding on their personal or commercial motor-cycles, with proper identification, would be allowed into the campus. Also, visitors that have official business to transact on campus, would be allowed access with their vehicles, after proper identification.