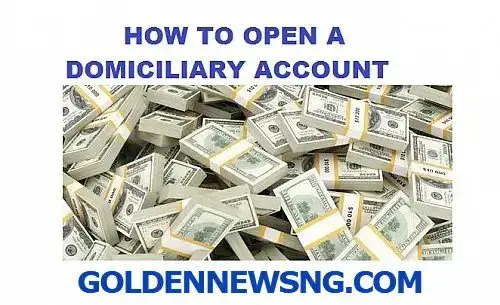 This article will give you complete information on how to open a dollar account in Nigeria. After reading this article, you will know about the requirements for opening a dollar account in Nigeria.
These below questions will be answered on this article ;
What is a Dollar Account?
A dollar account is a type of domiciliary account it's a specific kind of bank account that allows you to receive and make payments in foreign currencies, such as euros, dollars and pound . All money in a domiciliary account is valued at the current Naira exchange rate, You can also withdraw the foreign currency from any bank in Nigeria and either change it at bank rates in the bank or at the parallel market.
Which bank is best for dollar account in Nigeria?
Most of the prominent banks in Nigeria today are good options for the opening of dollar account. If you are looking for a bank to open a domiciliary account in Nigeria, you should consider any of these 5 banks
Zenith Bank – opening and operating a dollar account with them is relatively easy and fast.
Guarantee Trust Bank – this is the bank with one of the best online banking systems and services.
Fidelity Bank – their monetary requirement for opening a domiciliary account is not much as compared to others.
First Bank – this is undoubtedly the biggest bank in Nigeria and their services have improved tremendously over the years.
United Bank of Africa – they have been operating as one of the biggest banks in Africa for a while and they are dependable.
Can I open a dollar account with naira?
The answer to this question depends on the bank you are opening the dollar account with and also your account officer. ordinarily you're not supposed to open a dollar account with Naira. You are supposed to buy dollar maybe from the bank or black market to use and open a dollar account.
However, your bank may decide to make use of the funds in your savings or current account with them to buy dollars and open your dollar account without you having to source for the dollars yourself.
How much does it take to open a Dollar account?
Some banks do not require any amount of money to open a dollar account for their customers, all they require from you is your documents. However, there are other banks that will require a minimum deposit between $50 – $200.
Ensure to find out how much your chosen bank are demanding as a minimum balance for domiciliary accounts
Who can open a dollar account in Nigeria?
Most banks allow both individuals and business corporations above 18 to open and operate a domiciliary account. As long as you have the necessary paperwork, including ID, residence permit, address verification, and the proper bank forms, you will be able to apply.
What Documents are Required to Open a Dollar Account?
The requirements for opening a domiciliary account vary across different banks but are fundamentally similar. Here are the basic things that your bank will likely request of you.
The following documents are required to open an Domiciliary account:
Means of address verification
2 references
2 Passport photographs
Valid ID of each signatory
Residence Permit (Foreigners)
Forms CO7 and CO2 as applicable for companies
Certificate of Incorporation / Business Registration for companies
Memorandum and Article of Association as applicable for companies
Board resolution as applicable
Search report as applicable