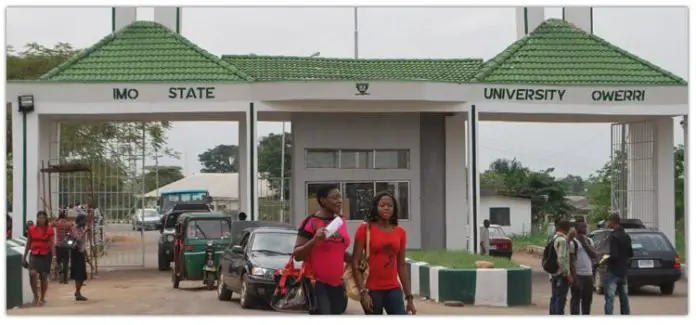 Kingsley Ozumba Mbadiwe University (KOMU), Ogboko in Ideato South Local Government Area of Imo State has cancelled the 2020/2021 academic session of the university.
The institution said that it took the decision due to its inability to complete the 2019/2020 academic session as a result of issues related to the COVID-19 pandemic which affected the timely completion of the academic session.
The university also announced the commencement of the 2021/2022 academic session on September 27, 2021.
In a release dated September 20, and signed by the management of the institution, it said that academic activities, which were suspended due to the transition from the erstwhile Eastern Palm University to KO Mbadiwe University, would now recommence in the 2021/2022 session.
The release mandates old students of the institution to return to campus on Monday, October 4, 2021 as several interventions on the university campus environment and rehabilitation of the deteriorating physical facilities would have been completed.
It, however, stated that admissions of new students would commence on September 30, 2021 as approved by the JAMB policy meeting of August 31, 2021.
The management urged staff and students to strictly observe all COVID-19 protocols, adding; "staff and students are expected to return with adequate face masks, face shield and hand sanitizers" as management would ensure the provision of adequate water stations to encourage hand hygiene as well as social (physical) distancing in all activities on the campus.
"Management assures the government and good people of Imo State and indeed all Nigerians of her deep commitment to growing KO Mbadiwe University to be a world-class university and consequently solicits the support of all stakeholders to achieve her overriding objectives of training our children for self-actualization and for the task of nation-building", the statement said.